On Sunday night, April 22 when he's set to close Coachella Valley Music and Arts Festival, Dr. Dre posted a video message from the backstage of the event. The rapper thanked his fans for all the support they gave to him, and took time to talk about rumors suggesting he would tour with a virtual Tupac Shakur.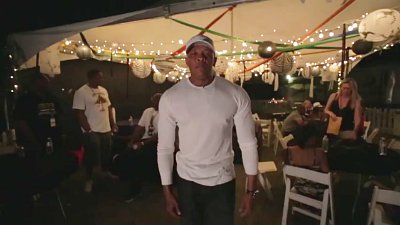 Wearing a white t-shirt and cap, the Doc said to the camera, "It was strictly for Coachella, get it right. I want to get rid of all the rumors out there. This was not done for a tour." He, however, didn't completely rule out the possibility, "If a tour happens, we'll see. This was done strictly for Coachella 2012, just for you."
Dre became talk of the town on the first weekend of Coachella after he and Snoop Dogg brought Tupac to life via hologram image during their set. The likes of Rihanna, Katy Perry, Warren G, Kendrick Lamar and Wiz Khalifa have all gushed about the stunt. In a recent radio interview, T.I. called it "an 'oh s**t' moment."
In a separate chat, Nas said, "It just shows you how amazing Dr. Dre and Snoop Dogg are, and how they hard they're riding for their West Coast brother Tupac, in the name of Hip Hop music. I thought it was a great look for Hip Hop as a whole - it stepped Hip Hop up a notch. And it was also revolutionary on a performance scale...that's what it's all about."
Common, meanwhile, raved, "I think the fact that we can continue to pay homage to what Tupac meant to Hip Hop and to music and to the culture [is] great. Unfortunately the brother passed, but the fact that we can give people the vehicle for people to enjoy and remember what he means to music and our culture is great as a whole."
Dre himself stated, "Hopefully, you know, different artists are able to bring out their favorite artists." He added, "Hopefully, we can see Jimi Hendrix and Marvin Gaye."
source - http://www.aceshowbiz.com/news/view/00049913.html