Since being ousted from G-Unit in 2005, The Game's relationship with his one-time mentor, Dr. Dre, has often shifted between borderline fanatical and what appeared to be subliminal shots. At various times within the last four years, Aftermath artsits Bishop Lamont and 50 Cent (signed through the Aftermath subsidiary Shady Records) have also been involved in beef with The Game, while Dr. Dre remained quiet about the situation.
During a HipHopDX interview in 2008 Bishop even left the door open to a possible reconciliation saying, "I genuinely have love for dude. His brother is my brother; Big Fase 100 is my brother. His sister, B-Fly is my sister. Me and his mom talk all the time. We were at a Father's Day thing together just this Sunday. It was Dre's mom, his mom and my mom, so I've got love for him. Niggas blow that wrestling shit out of proportion. At the time he did that record I wanted to beat him up, but that ain't shit. It's all love."
Those feelings were apparently co-signed by Dr. Dre, after The Game posted a picture of himself, Snoop Dogg and Dr. Dre in the studio working together.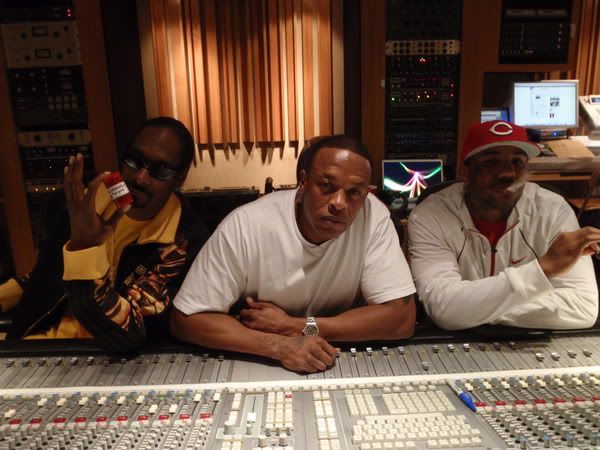 "CAN U SAY 'DETOX' ??? IN THE STUDIO WIT DRE & SNOOP. WE BOUT 2 MAKE ALOT OF PEOPLE MAD. RIDE WIT US OR GET RAN OVER ! AFTERMATH OR DIE !" Game wrote via Twitter.
Snoop also hit up his Twitter page to display the same image and confirm being in the studio with both artists.
"What's more gangsta than dis?," he wrote. "N the studio right now!!! west coast takeover. this is how the west was one!!!"
(Snoop Dogg's Twitter)
Stat Quo spoke too, although he isnt in the photo:
"Last night was crazy......I'm surprized I'm up this early, didnit leave the studio till after 5....just Detoxin!!!!
"
Dr. Dre's rumored fourth solo album has been in the works for nearly a decade, with various explanations given for its delay.
Source -
http://www.hiphopdx.com/index/news/id.9909/title.the-game-rumored-to-work-on-dr-dre-s-detox
http://www.sohh.com/2009/10/the_game_emerges_for_dr_d.html